George J Penney High School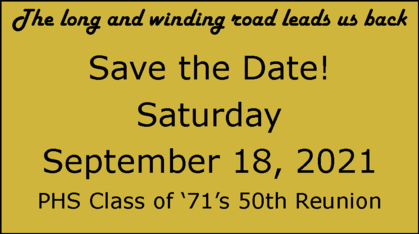 We are planning a fun and memorable event - even with a pandemic still in play!
We are still building this class website but wanted classmates to have access ASAP so you can start building your profile and just generally looking around and getting familiar with the basic layout.
Create your profile.
Update your contact information - it is private - only the website admin can see it.
To take control of how many email notifications you receive from the website, use the Notify Me link (left navigation bar) to choose which notifcation are sent and how often you they are sent to you. (None, ever is an option). Note - if you provide 2 email addresses, notifications will be sent to both.
Newest website additions:
What One Song survey - we're looking at having a DJ at our 50th event and we're pulling together a playlist. What one song do you want to hear?
The Classmate Forums are designed to:

Host a classmate' - if you have a spare bedroom and would like to host an out-of-town classmate, hit "Reply" and type in your location, days the room is available and other detials. Classmates in need of a room can use your profile page to contact you if they are interested. All the decisions to host someone (or not) are up to you. We're simply providing a tool to make the connection.
'Self-organize' gatherings before (Friday) and after (Sunday) the Reunion Event on Saturday. Pick a topic, click 'Reply". Need a golfing buddy on Friday? A walking partner for Sunday? Want to gather classmates for lunch at Augie and Ray's or a brunch on Sunday? Pick the forum board for the day (Friday or Sunday), hit Reply and put in the event, time and place to meet and others can reply if they are interested in joining you. This is just a tool to connect you - make your own arrangements.

The Library link will take you to PDF's of booklets from previous reunions and publications from our graduation year.
There is a Donate button (upper right) if you'd like to help support either this website ($25/mo) or to defray some on the event costs so we can keep the ticket prices as low as possible so everyone can afford to come.
What else you can do now:
We've completed the work to locate classmate email addresses - now we need your help. Use the "Missing Classmates" link on this Home Page (bottom right) to contact classmates whose email you know and invite them to the website - we appreciate the help!
We've identified 62 classmates who are no longer with us. You can see the list under the "In Memory" link on the left navigation bar. You can click on a name to leave a memory or comment. If you know of a classmate not on the list, let us know - there is a link at the bottom of that page.
There are some images already uploaded so take a little stroll down memory lane. You can add images too! Use the Add/Edit Button at the bottom of each gallery and make sure you are logged in.
Check back as there will be regular changes and if you are tech-savvy and want to help build pages and keep everything on the site running smoothly, use the CONTACT US button. Thanks!